📈 Market Highlights
We piloted our self-service minting tool, Mint Authority this week with United Aliens and Crypto Coven. Our Launchpad project Solana Mystery Box is live.
Newly listed collections: CorpoRats Lab, Boryoku Dragonz, BlockAsset Legends, Fine Fillies, SOLands v2, Element4ls, Mere Marbles, Meta Homes, Frogboiz, and Babolex.
SOL has hit an all-time high, climbing upwards of US$246. As people hold onto their SOL bags, we have been seeing overall minting and trading soften in the market. As a result, collections are adjusting mint prices, pushing back drops, and cutting supply.
---
🪄 This Week's Top 10 Performing Collections on Magic Eden
Congratulations to the following collections for achieving the highest volume on Magic Eden over the last 7 days (11/1-8)!
---
🚀 Launchpad News: Announcing Baby Yoda TODAY (11/9)!
Launchpad is Magic Eden's white-glove full-minting support service with outbound marketing support and automatic listing.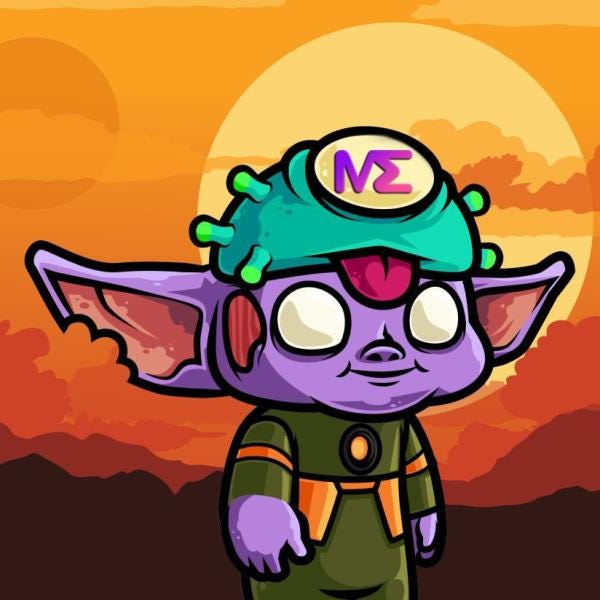 Galaxy Koalas expands the Solaverse with their new collection, Baby Yoda! 

Mint against the forces of evil TODAY (11/9) at 6 PM UTC. Inspired by their community, Baby Yoda is a tribute to current community members and an out-of-this-world invite to new ones. Today, 1,000 Baby Yodas will be airdropped to Galaxy Koalas holders, while 2,500 Baby Yodas will be available to mint at 0.35 SOL on Magic Eden's Launchpad. Baby Yoda is doing this through a DAO which will include community donations, free NFT airdrops and floor sweeping. May the Metaforce be with you! 
---
🗽 NFT NYC Recap
Did you see our billboard in Times Square? We collaborated with independent artist @xOniBunnyx to bring Pesky Penguins, Surging Bulls, SolSocks, Belugies and Thugbirdz to NYC! 
@KatteCapital (head of partnerships/biz dev) and @bytheophana (head of marketing/content) shared their experience meeting as friends during their first jobs and growing Magic Eden together 9 years later. 

@offwhitewalker tweeted "Awesome Magic Eden talk, it was great hearing the transition from management consultants to NFTs full time. Loved the @galacticgeckosg shout-out!"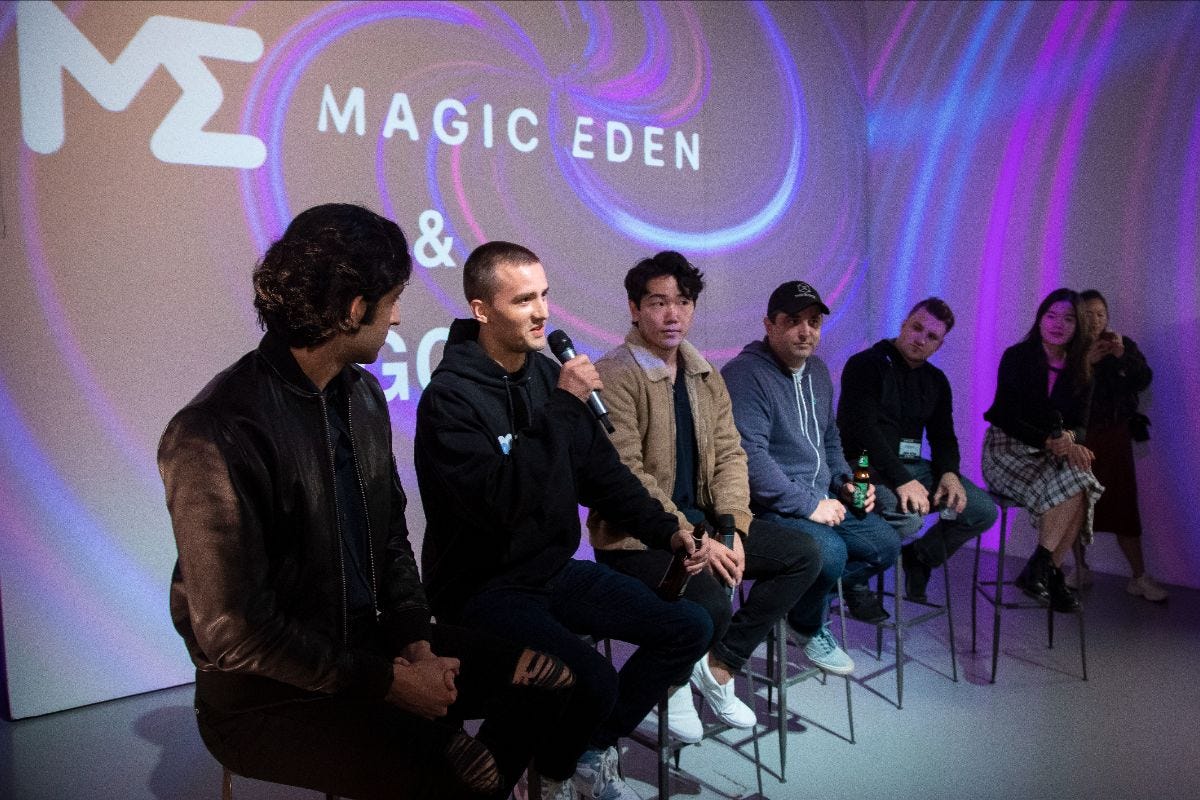 We hosted Creator Culture Showcase, Magic Eden's first IRL event co-sponsored by Global Coin Research at Lume Studios. Our panel featured Belugies, Labyrinth, Statik, Mike Dudas (6th Man Ventures), Personify (upcoming Launchpad 11/20). We then hosted a gallery across three immersive walls featuring the collections above, Red Panda Squad, Fancy Frenchies, and Matrica Labs. Over 980 people signed up! We think we threw a pretty decent party -- see for yourself! 
📌 Creator Culture Showcase Panel Quotes:
Mike Dudas: "We're moving to a world where we can own the metaverse. We can spend our time there, we can be owners of those networks and we can own NFTs that give us a better experience."
Personify: "We created our project to let people express themselves and connect with NFTs a little more. We take words people identify with and turn them into NFTs. On the light-hearted side, someone came to us and wanted the personification of balding. He wanted to express himself through his bald head. For him, that art piece is so valuable."
Belugies: "We're not just trading bits. You have to care about your community. Bottom line is, you have to give a shit and be passionate about what you're doing."
Labyrinth: "I do as little marketing as possible because if people think they can make money by selling it immediately, you'll get people buying it with that intention whereas if people don't have that in front of their mind, you'll have longer-term buyers and holders."
Statik: "As a technologist, one of my favorite things about blockchain and crypto is that everyone is willing to help each other."
---
🧠 Our Team Is Reading:
---
✨ Shill ME, Baby!
---
🔗 Helpful Links: