Key Insights: 
Trippy Bunny Tribe is an OG Solana NFT that started out of fun, but ended up leading mental health NFTs. 
Rad Trip Bunny is the second generation of their collection which aims to expand the community and grow awareness of mental health in the NFT space. 
The NFT space can have a positive and negative effect on one's mental health. It's all about the balance. 
---
Imagine selling out an NFT collection in 16 seconds and donating 100% of mint sales raised to charity. That's what Trippy Bunny NFT did. 
This time, the Trippy Bunny Tribe is back with their second-generation collection, Rad Trip Bunny. 
But first — What is Trippy Bunny NFT? 
On National Suicide Prevention Day, they made headlines and a difference. The Trippy Bunny NFT Tribe decided to donate all the mint raised — totalling $220,000 — to the American Foundation for Suicide Prevention via the Giving Block, an organization that bridges the gap between non-profits and crypto donations. This OG Solana collection was a catalyst for charitable giving, inevitably pioneering mental health NFTs. 
"Trippy Bunny was a fun project between my friends and me, meant to directly do something positive for the Solana ecosystem during a period of overpriced mints and cash grabs," 

Fxnction
shared.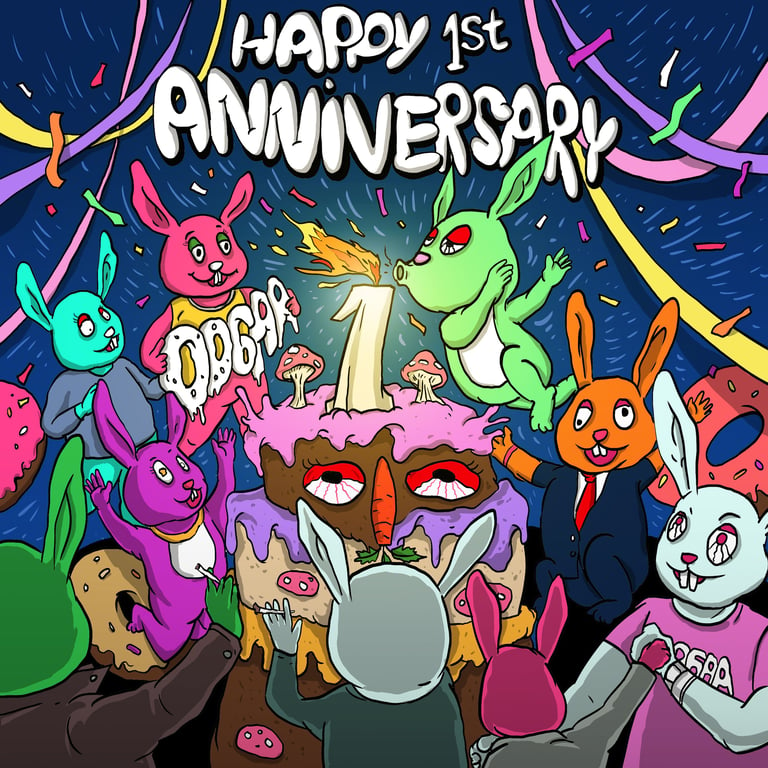 Fxnction, NFT Degen and Founder of Trippy Bunny NFT 
Already in the Ethereum NFT ecosystem, Fxnction bought Solana when the cryptocurrency was trading at $18. With an anon Twitter account, he observed a budding, excited community building NFTs. We're still early. But, Fxnction was there at the beginning of time itself, minting Solana Monkey Business's (SMB) Gen 1 NFTs among others. The good old days were simpler times: join a Discord server, send some $SOL to a crypto wallet address in exchange for a pixel monkey. His early bets on the NFT ecosystem, both on Ethereum and Solana have made him a leader when it comes to navigating the NFT space. While his talent for shitposting, grew the popularity of d*ck jokes on Solana, making him a cultural icon. 
The Trippy Bunny NFT Tribe started when Fxnction drew the bunnies. He shared it with Bagsy, brought in Techy Spark who ran tech, and Sam who was the marketing lead. 
"At the time of mint, no one knew our charity intentions. We surprised everyone by giving away our full mint proceeds to ASFP, a charity revolved around suicide prevention," Fxnction shared. 
[Trigger Warning] According to the CDC, suicide is the leading cause of death in the United States. Every 11 minutes, 1 person commits suicide. But the good news is that lives can be saved. And it starts with preventing suicide. Continuing its roots as a mental health NFT, Rad Trip Bunny will support mental health charities alongside Magic Eden by donating 10% of total mint funds. The rest of the funds will be used to build out the Trippy Bunny Tribe NFT brand and empower an even bigger community with cooler stuff. Months before the Rad Trip Bunny mint, one of the cool things they did was help an individual with his cancer treatment (and now he's cancer-free!) 
Fxnction and Linkkzyy shares on how the Solana NFT ecosystem has evolved, inspiring charitable giving, and how NFTs impact mental health. 
ME: The OG Trippy Bunny Tribe NFT minted back on Sept 10, 2021, when SOL was trading around $180. How do you think the Solana NFT ecosystem differs from your first launch? 
F: Solana has come a long way since the original launch of Trippy Bunny. The marketplace game is much more centralized with Magic Eden's dominance, substantial increase in the population of the space and capital being invested in it. The biggest difference for me is the community itself.
It felt so small back then. Everyone knew everyone and people were just having fun. The future success of Solana wasn't even fathomable so it really was just a hub for degenerates to have fun and this is something we hope to bring back. The quality and ambitions of projects right now are nothing short of amazing, but speaking for myself, I definitely miss making dick jokes and trolling on the TL like we did back then.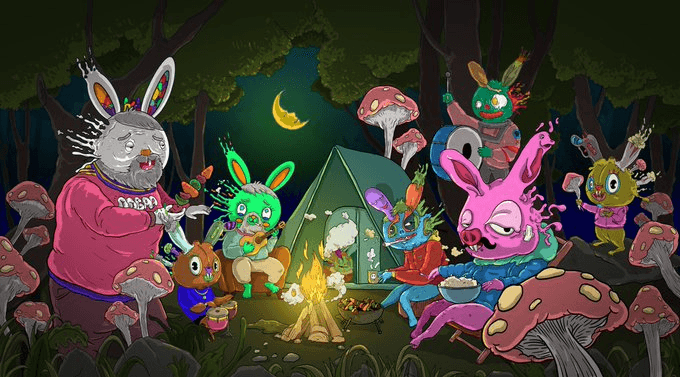 ME: How has the project's charitable giving inspired others in your community? 
F: In the beginning, I personally didn't realize the effect it would have on a growing community. People loved the ethos of our actions and rallied around it, including Linkkzyy and others.
L:  The Trippy Bunny community has been nothing short of amazing. I for one originated in the community. I saw the project launch and Fxnction who was playing behind it. I fell in love. I tweeted about hundreds of times a day, ran my own giveaways, endlessly shilled, and continued recruiting other community members to this cause. Unassigned and Kennmeister being some of them.
At the time of the Gen 1 launch, the amount of cash grabs and greedy devs was interesting to say the least. The Solana NFT ecosystem was overcrowded with rushed mints and ridiculous price tags. People were running away with millions after mint and not fulfilling their roadmaps. Trippy Bunny was originally priced the way it was with a low supply to disrupt the current meta at that time. So, the entirety of the mint raise going to charity really shed a light on the pure intentions behind this project. In its own way, it incentivised members to strive for the same positive growth. 
ME: Trading NFTs and being part of the community comes with its highs and lows. How has NFTs impacted your mental health? 
F: NFTs can have both a positive and negative effect on my personal and mental health, depending on how I'm interacting with the ecosystem. I think the community can be a fun place to find belonging and connection with like-minded people. I also believe it can become an energy drainer if you're not paying attention to the amount of time you're spending on your phone. It's a balance.
L: I believe everyone in the NFT space can think of a moment in their life where they felt mentally exhausted and unsure of what to do. That's why mental health is such a prevalent message to push, especially in a space that can be so captivating it distracts you from the other important balances of life. 
For many, emotions are a hard subject to confront. We hope that through the pathways we are encouraging, we can save lives, fix bad weeks and put smiles on more faces. For anyone who reads this and may be struggling, you will never be alone on Solana. My DMs will always be open and so will the Trippy Bunny Tribes Discord, so please, never hesitate to come talk, listen to some dick jokes, and laugh with us. OOOGAAA!
---
OOGA (if you didn't know what it means: for the good of all people) 
Join the Tribe with a Rad Trip Bunny. Buy on Magic Eden.