We know that it's been rough for us degens lately. Markets are down and we are seeing headlines about crypto company lay-offs. Despite signs that we have entered bear market territory, we at Magic Eden are excited to continue building the next frontier of Web3.
On June 21st, we closed a $130 million Series B funding round co-led by Electric Capital and Greylock Ventures. Lightspeed Venture Partners also joined the round as a new anchor investor. Other participants included previous investors Paradigm and Sequoia Capital. The funding comes just three months after our $27 million Series A round closed in March. With the community's support, Magic Eden has grown to become a company valued at $1.6 billion since its launch nine months ago. 
🔑 Here's what we've achieved in 2022 thus far: 
Jan: We were only 20 people. Since then, we've grown our team to 100+ people spread across the globe. This is testament to Magic Eden's speed of growth. 
Feb: Balloonsville happened. We successfully de-rugged it. Pausing Launchpad for two weeks was a painful decision but it was the right call. We took the time to strengthen our Launchpad process and enhance creator due diligence. Since then, we're proud to help launch 250 unique collections into Solana's NFT ecosystem. In an effort to connect more deeply with the community, we created MagicDAO. We also got legendary basketball player Shaquille O'Neall to change his Twitter name to SHAQ.SOL.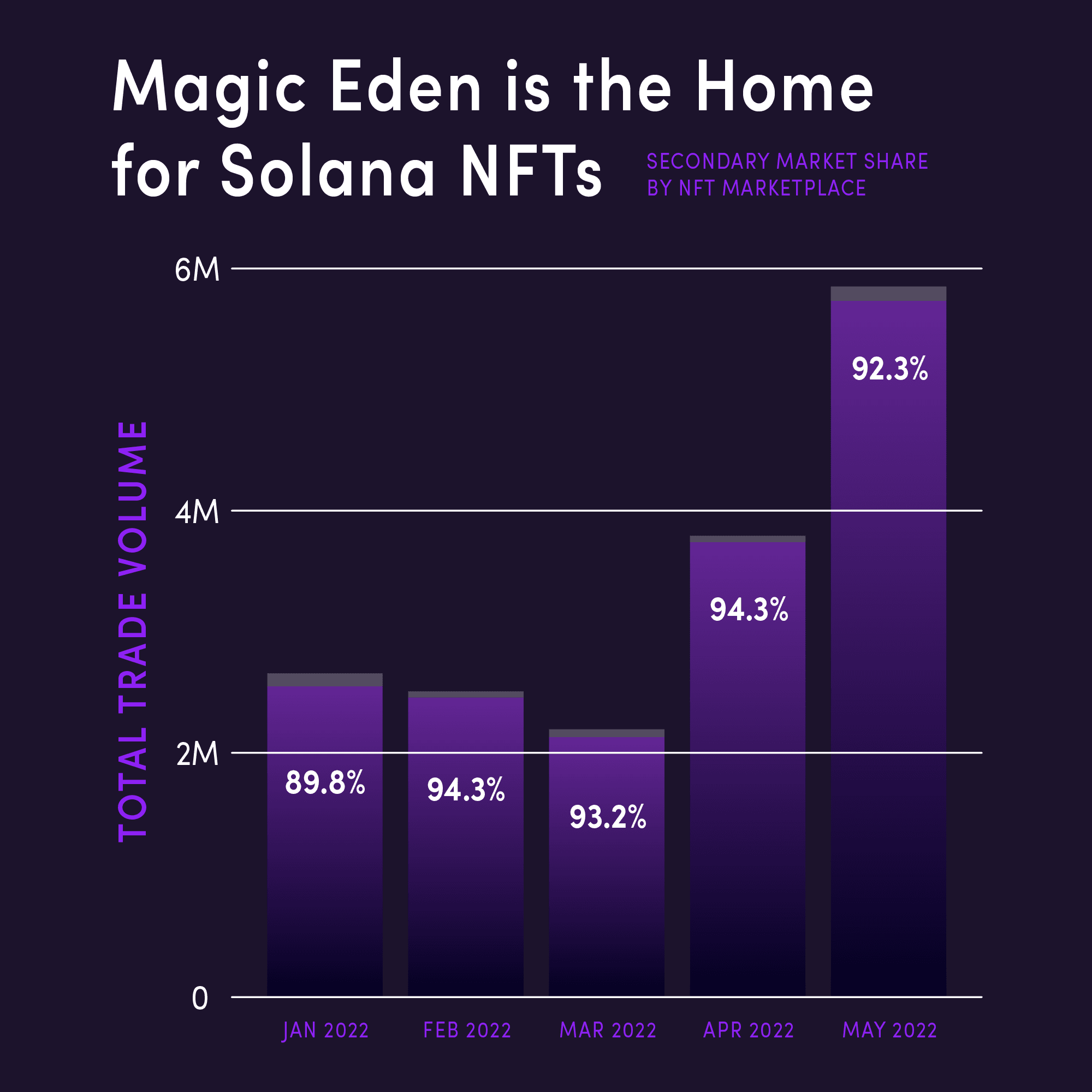 Mar: We crossed the US$1 billion mark in total secondary volume on March 12th. We introduced Eden Games. Since then, we have launched 50+ games and saw over 90% of all gaming NFTs traded on Magic Eden. We announced the closing of our Series A raise of $27 million. We also had our first company offsite and things got a bit lit. 
Apr: Our secondary volume experienced all-time highs in NFTs minted, Solana ($SOL) volume traded, and connected active wallets in April. We also crossed over 100,000 in iOS app downloads! Okay Bears minted on Launchpad and broke records across ETH & SOL. 
May: We began to enter into bear market territory, but saw a record 5.2M+ SOL (or US$330M) in secondary volume. We continue to maintain 90+% secondary market share of Solana NFT volume. ETH liquidity flowed into SOL. Our Magic Eden intern topped the global @nftinspect charts. We integrated SPL tokens into our marketplace, allowing users to buy and sell NFTs on Magic Eden with community tokens.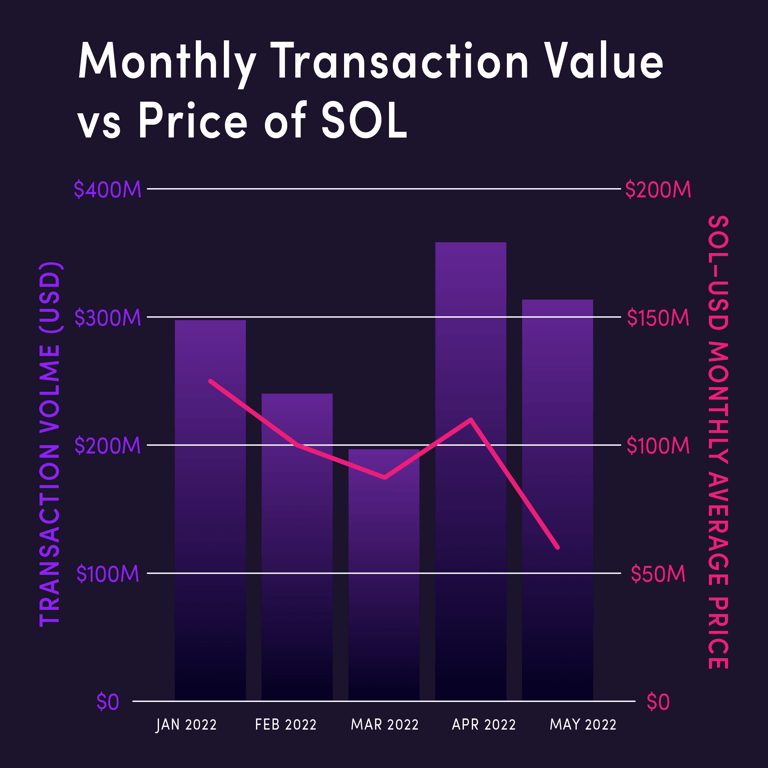 Despite the bear market and Solana's price downturn, we're seeing resilient transaction sizes. Both April and May saw over 300M in trading volume.
June: And today, we announce the close of our latest round in funding. We are humbled by the lessons learned from the rapid growth and are heartened by the community's reception. 
With the latest Series B funding close, we are going to be focusing on strengthening our offerings to creators and collectors transacting on Launchpad and our marketplace. We will also double down on our dominance in NFT gaming while exploring multi-chain opportunities in order to reach new users and NFT projects. 
Jack Lu, CEO, commented on our recent funding, "We know that NFTs are the best way to bring people onto the blockchain. They're exciting, social, and cultural experiences that bring connectivity to the world. We're thrilled to have the continued support of our investors and community and look forward to onboarding the next billion users to Web3."
Although the broader crypto market has encountered significant headwinds lately, we remain focused on building a marketplace that will reach more users and are bullish about the future of NFTs. Zhuoxun Yin, COO, concluded, "It's never as good as it is, and it's never as bad as it is. We are building on a 10-year time horizon. Nothing we do changes. Nor should change, just because of price action. This has been true through every crypto cycle."
We thank you for getting us to where we are today. Thank you for making Magic Eden the destination for NFT discovery, ownership, and expression in the new digital universe.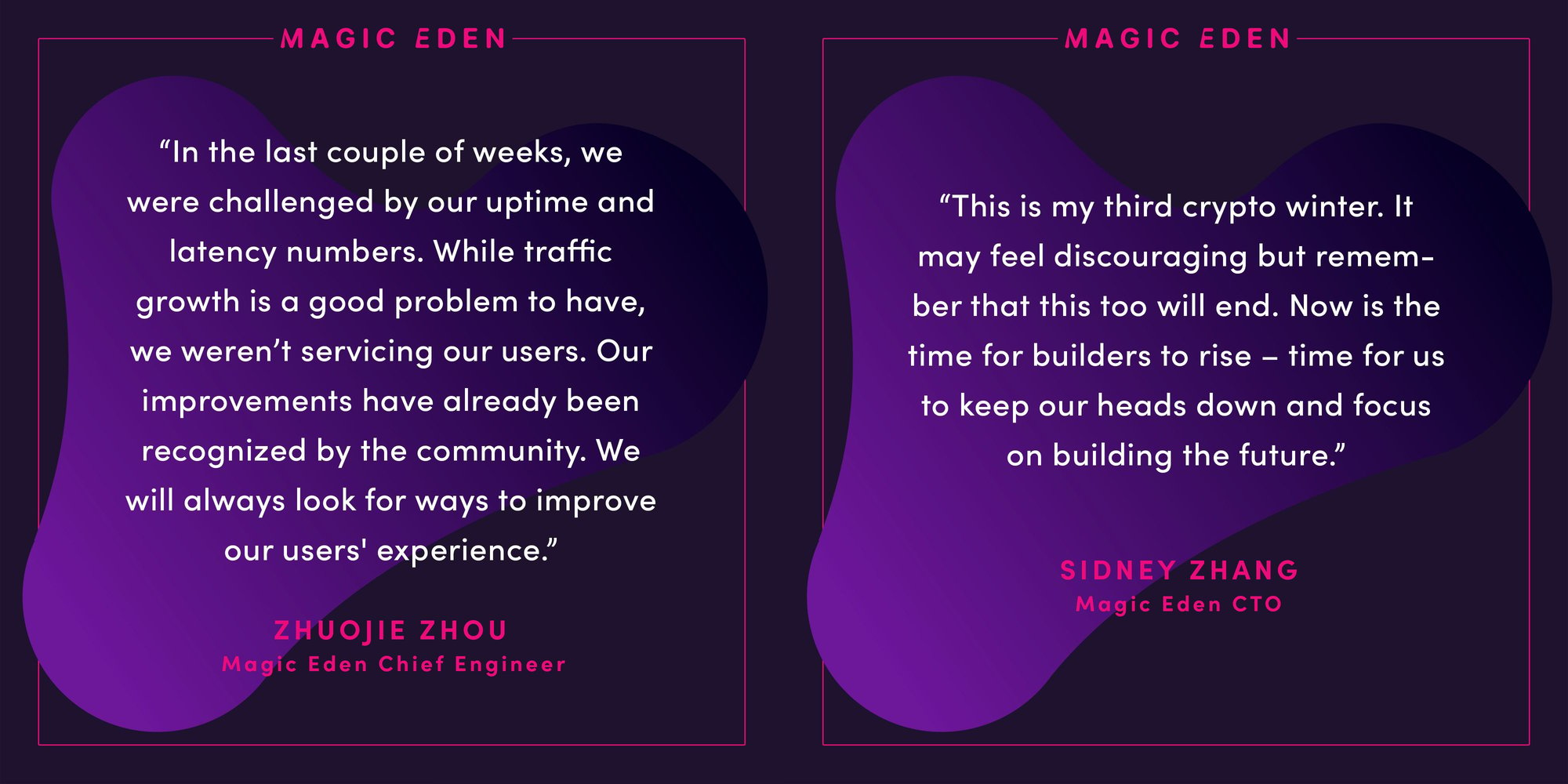 ---
🪄 We're in the news! 
---
🪄 ANOTHER ONE: Big thanks to YOU! 

It took us 7 months to get to 10mil, and only 2 months to double that number. All thanks to you guys, it really is #SolanaSummer