A few days ago, Deepak Thapliyal spent over $5.8 Million (1,542 ETH) on an M3, BAYC's Mega Mutant Serum, which has the potential to turn a BAYC into a coveted gold or trippy Mutant. An investment firm tried to outbid him with 1,500 ETH. As both individuals and organisations show, NFTs are an investment. What they're really investing in is community. Sure, there's art involved. But for most generative art collections, the success of an NFT collection is driven by the people that hold them. This applies to the majority of SOL NFTs.
But, there are NFTs that exist as art for art's sake. On Solana, there's a budding focus on one-of-ones which places art and the artist at its core. You don't need a roadmap or a team to launch one-of-ones. All you have to do is make art. Couple that with putting yourself out there on the interwebs, and there's demand. A notable example is solBoogle with its latest sale fetching 800 SOL (~$140,000) in an auction. According to @0xCelon, a floor Boogle is worth more than a floor BAYC. There are less Boogles out there than there are BAYCs. It's rarer.
Trad Art v NFTs: The traditional art system is known to be elitist with a penchant of collecting the works of dead men. Charles Saatchi flipped the old guard on its head when he started a movement to give living artists recognition (like Damien Hirst) by exhibiting them. Love Saatchi or hate him, he pioneered the "specullector", a combination of the art collector and the art dealer. A traditional art collector collects art to demonstrate their taste but Saatchi regularly reaped profits and discarded those that don't work. In the past, art collectors would hold art for decades while dealers sold it in a few months. Now, we can flip NFTs in a matter of minutes.
With NFTs, we're all specullectors and we also play an active role in an artist's career. NFTs democratize art. We can access and own any NFT. By buying a one-of-one, you can make or break an artist's career, contribute to their hopes and dreams, and invent and be part of both art and cultural movements.
Here's where to start with collecting one-of-ones:
Know why you're buying — Is it to collect or invest? Is it both? Can you add value and help grow an artist's career? This will help you decide whether to diversify your assets or invest in select artists.
Trust your instinctual eye. Buy art that captures your heart, mind and $SOL.
If you're in it to support artists in general, buy many from the ones you enjoy and support a variety of artists!
If you're unsure of an artist, don't put all your eggs in one basket. Diversify.
Launchpad Auctions
To support even more creators and the emerging artists on our radar, we've rolled out auction features on Magic Eden's Launchpad. At an auction, the bidding community tells us what they believe an asset is worth and how much they are willing to invest through incremental bidding. 
On Launchpad, a creator can set up both English and Dutch auctions:
English Auctions: The price starts low and people bid upwards over time.
Dutch Auctions: The price starts high with decreasing increments over time.
Why auctions? TL;DR: It works. 
For buyers and supporters:
There is greater transparency with price, demand and market value.
Collectors have a direct secondary market point of contact. They can list and resell on Magic Eden if they so wish.
For artists and creators:
It discourages short-term flippers since a fair price is established through a democratized discovery.
Putting a price tag on art is hard and with an auction, the community makes this call. Creators also benefit from price discovery.
---
🥁 Just had our first auction with Gooney Toons!
On the 3rd of January, we dropped an English auction with Gooney Toons, where we auctioned the artwork in the banner of this newsletter. With different NFT projects across Solana's ecosystem featured, we felt that it was a fitting piece to start auctions on Magic Eden.
'Gooney Toons Night Out' closed at 125 SOL after a 24-hour auction.
Congratulations to the artist, Kamikaze Bandit, the Gooney Toons team and the winning collector, Chris McCann! 🔥
100% of proceeds went to the Teamseas charity, in which every dollar donated will help remove 1 pound of trash from our beloved ocean.
---
🪄 Congrats, this week's top performing collections on ME! (12/29-1/4)
---
🎶 We're kicking 2022 off with a song!
On the 8th of January at 4.00PM EST/ 9.00PM UTC, we'll auction "Oh, Solana" by Amy Street and @WayneNooten on Launchpad. Singing to the tune of Rufus Wainwright's Hallelujah, "Oh, Solana", is the unofficial, official Solana NFT anthem 😉
P.S. We're hosting a listening party with Audius on 1/8. Stay tuned!
---
🚀 Launchpad Releases
Launchpad is Magic Eden's white-glove full-minting support service with cutting edge capabilities, outbound marketing support and automatic listing. We provide the widest reach, exposure and tools for creators to launch their collections on Solana.
Dyl
In 2019, Dyl released "Crypto Rich" the first ever crypto-themed music album. He added 10 new songs with "Crypto Rich Deluxe" in 2020. In 2022, he drops Music NFT trading cards for "Crypto Rich Deluxe". Collectors will own a piece of the album on Solana.
Launchpad Mint: 6 Jan, 7.00PM UTC, 0.5 SOL, 1110 NFTs (standard, gold, platinum cards) 
Note: Total supply is 1111 NFTs; 1 platinum card NFT will be auctioned.
Gooney Toons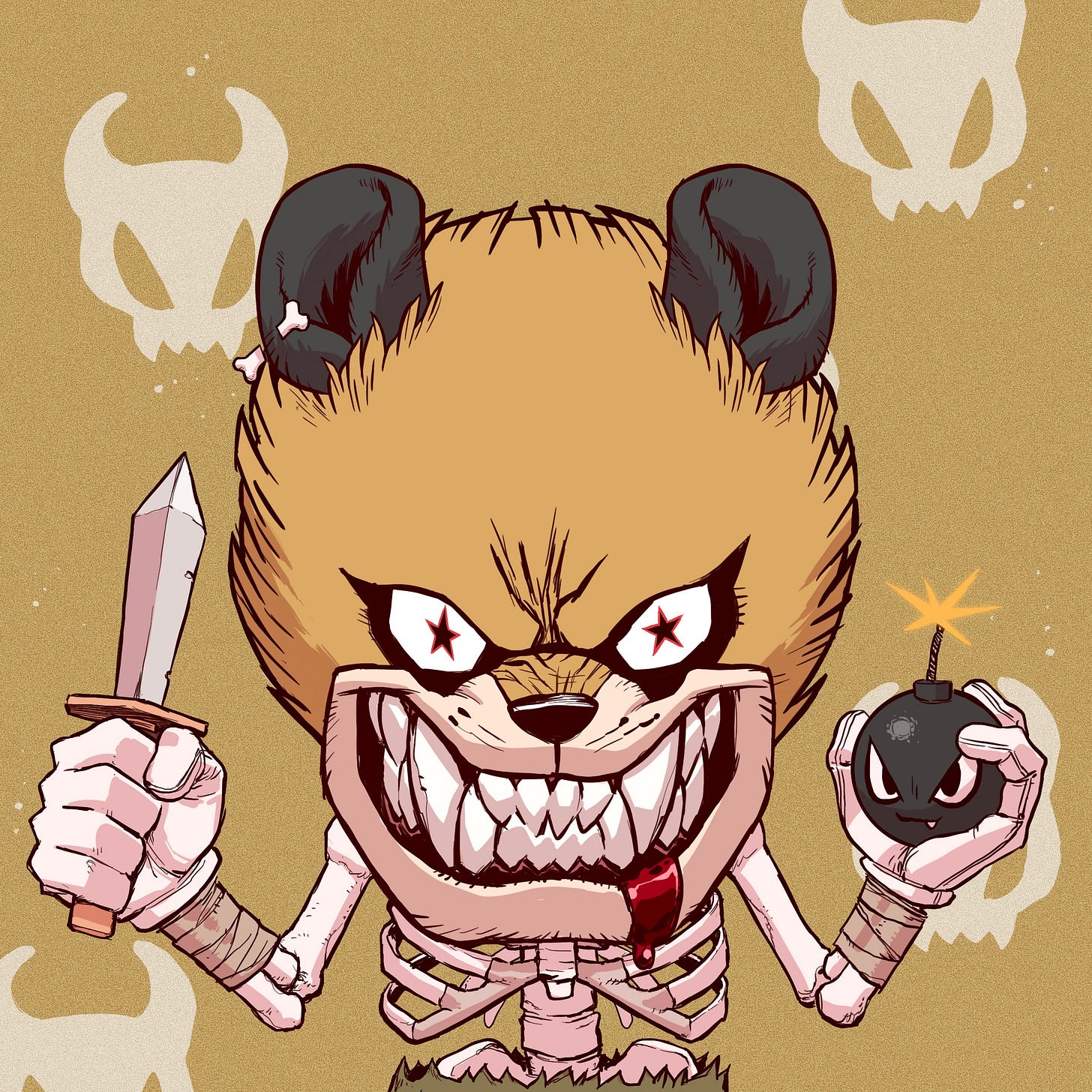 Gooney Toons NFT is a mixture of dope art and engaging storytelling. Read their comic about an intoxicated scientist breeding goonies in his underground lab in Alaskan tundra. With a Gooney Toons NFT, you'll unlock the next chapter of the comic. There's also a merch drop!
Launchpad Mint: 7 Jan, 22:00PM UTC, 1 SOL, 5,000 Gooney Toons
Zoolana Alpha Blue
Zoolana is the first mobile play-and-earn game being built on Solana. Set in a dystopian future, players will build friendships and alliances while they conquer foes and battle for glory. Check out their whitepaper here. 
Launchpad Mint: 8 Jan, 4.00PM UTC, 1 SOL, 2,000 Zoolana NFTs
Note: Total supply is 3500 and the rest will be available on zoolana.io. 
Rogue Pandas 
Rogue Panda tokens will unlock their casino in the metaverse, serving as 'casino currency' for gaming chips, bets and games. Rogue Panda owners will receive a share of all casino profits, with proceeds going directly to the holders wallet. 
Launchpad Mint: 12 Jan, 8.00PM UTC, 7,777 Tokens, 0.77 SOL
---
🛠 Over the past few weeks, we've been rolling out more features
Here are some of them:
Play on ME: We've embedded the Mini Nations game on their collection profile.
Fat Finger Check: If you list under floor price, you'll get a warning!
Collection Search: Ranked by volume now.
Collection Flagging: LIVE and please use it wisely!
Mobile App: We have an android app! iOS soon 👀
Our engineering team is hard at work. Much more to come. In the meantime, tweet your suggestions @MagicEden_NFT. 
---
✨ Have you checked this out?