For the last 3 months, we've loved every moment of growing Magic Eden from scratch. Everything we do is in service of growing a long-term Solana ecosystem and offering a platform to the next generation of creators. As the largest NFT marketplace on Solana, we have a responsibility but also a significant opportunity. To see all the success so far feels like magic because it really is. When we started working on Magic Eden, we never imagined becoming the leading marketplace on Solana in such a short amount of time. Our success is only possible thanks to creators and collectors on Solana. 
The last month has been filled with a lot of learning for our team. Given the state of the ecosystem, it's critical that we balance trust, fairness, and transparency to offer creators the best home for their hard work and collectors the best place to discover NFTs. While our team has worked steadfastly to vet and list collections, doing so quickly, carefully, and consistently is challenging considering the rapid growth of NFTs on Solana. This is a good problem to have.
Our direction moving forward is to gradually migrate to an open listing model in a way that delivers a great user experience and community-driven marketplace experience that feels fair, autonomous, and efficient for everyone.
Below, we present our current thinking around how we intend to migrate to an open listings model. We are putting this out there in the interests of transparency and giving the community a chance to provide input and feedback.
We have two goals:
Deliver helpful information and trust & safety tools to help collectors trade safely
Accelerate speed to list the work of our creators
Based on these two goals, we are rolling out 2 phases of updates over the rest of December and into 2022 :
Community-led flagging mechanism and escalation paths
Badging system for listings to help users make more informed choices  + Open Listing model
We will be rolling these changes in a phased approach with some of these changes in December but we expect more of these changes to roll out in 2022. This is a big change and we want to do this carefully to ensure that we deliver a safe and clean user-experience whilst moving towards an open-listing model.
PHASE 1: COMMUNITY-DRIVEN COLLECTION FLAGGING MECHANISM
We appreciate how active the community has been in reporting problematic collections to us on an ongoing basis. As much as we try to vet collections carefully, we know that the community can oftentimes provide immense support here. We are offering our users a way to flag any collection that raises concerns. 
Starting this week and to the end of December, Magic Eden users with engaged wallets (meaning they have transacted on ME recently) will be able to flag a collection via 2 categories:
Rugs
Inappropriate or offensive content that

incites hate, racism or violence
shows sexually explicit content
degrades or doxxes another individual
promotes suicide or self-harm
There may be other categories that are defined over time – and we welcome input from the community. 
For flagged collections, the entire page will be blurred out and a pop-up banner will emerge to indicate the collection has been flagged. The banner will encourage users to do their own research before proceeding onto the page.
If users proceed onto the page, they'll see a yellow 'flagged' icon on the right of the page that indicates the collection is flagged. In addition, if a user hovers over the 'flagged' icon under the PFP, they will see a disclaimer.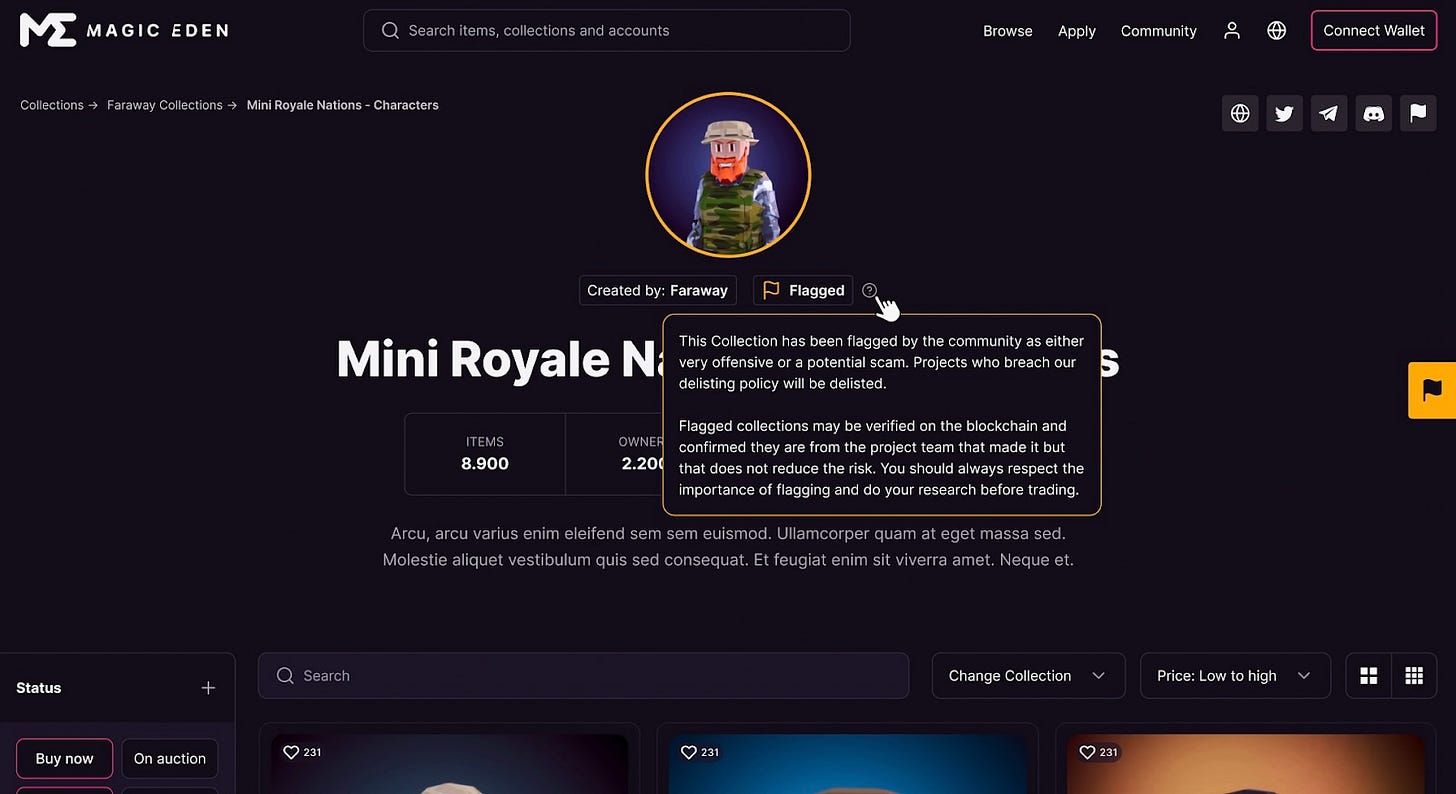 Once flagged, our team will manually review the collection and choose to either de-escalate to remove the flag, keep the flag in place, or escalate. Escalation may result in the collection potentially also being delisted.
A special note on rugs: Based on this system for flagging, reported rugs will remain online but will include a special pop-up warning that all users will see upon reaching the collection site. This pop-up banner will be a specific warning that states that the collection has been reported as a rug. By leaving collections up, we leave it in the community's hands to determine what to do. They can rally together to de-rug the project or walk away with knowledge of the warning.
PHASE 2: OPEN LISTING MODEL + COLLECTION BADGES
Currently, all collections on Magic Eden have the same badge of verification. Our community has shown a desire to know how to distinguish quality across collections. We don't believe in a binary trust signal (i.e., checkmark vs no checkmark). Instead, we believe quality constitutes many signals and we want to surface the right information for users to make informed choices for themselves.
In Phase 2 which will happen gradually in 2022, we will create different levels of listings that allow creators to list quickly while providing a set of badges for collectors to consider during the browsing experience. 
DEFAULT COLLECTION SETTING: OPEN LISTING
Efficient speed to list: By default, any collection will be able to list their collection automatically so long as it does not fall under one of the inappropriate or offensive categories listed above. Creators will be able to create a page and self-serve to build a storefront for their collection.
Not featured: Their collection will not be featured (meaning their collection will not be featured on our homepage in sections including the carousel bar, popular collections, or popular items), we will also look to monitor and limit the searchability of open listings to protect users from duplicated or otherwise scammy collections
User protection warning: When any user visits the collection page, the page will include a warning  under the PFP to show that the collection has not had its provenance checked and that the user needs to do their own research before transacting
Upvote or follower count: Another feature we're exploring is the  ability for users to upvote or follow collections. All collections will display an upvote or follower count on their storefront. We will be allowing users with engaged wallets to upvote or follow a collection. Once a user with an engaged wallet to upvote or follow a collection, they will remain as an upvote or follower unless they proactively unfollow a collection.
EARNABLE BADGES FOR COLLECTIONS
We're working on three badges to give collectors additional signals of trust. 
Provenance badge: this badge indicates that a collection's candy machine ID or hash list has been verified to belong to the respective project team (as opposed a duplicate collection that has copy and pasted the original team's artwork and is trying to pass off the NFT as the original). No other benefits are unlocked by the collection having this badge, but we believe this is an important signal to NFT collectors.
Doxxed badge: our stance is that doxxing is completely optional. However, we wish to provide a badge of distinction for the creators who want to dox as we recognize some collectors value this signal. We are partnering with Civic (a KYC company) and other ecosystem partners to allow project leads to present themselves for identity verification. Civic's standards are listed here. Again, having this badge does not unlock any other benefits, but we have heard that it helps help some users feel more secure transacting.
Volume Badge: Based on collections passing a threshold of volume, they will also receive a volume badge. We will continue to define, monitor and iterate what the threshold should be, because we don't want bad actors to exploit this system.
Conclusion
These updates seek to balance protecting users and giving them the right information to make informed choices while striving towards an open and community-driven listing model. Note that our terms of service will apply to users who use our platform and these features as we roll these out.
Once again, many of these ideas are still in development, and we pride ourselves on listening to our community and we will certainly continue to refine, iterate and add to these changes going forward as we learn more about the issues that the community faces. We look forward to your feedback on our Discord channel to help us refine these ideas further in the upcoming days before launch.
—
Ask us anything at Magic Eden's Townhall on Twitter, 20 Dec at 6.15PM EST/ 11.15PM UTC.