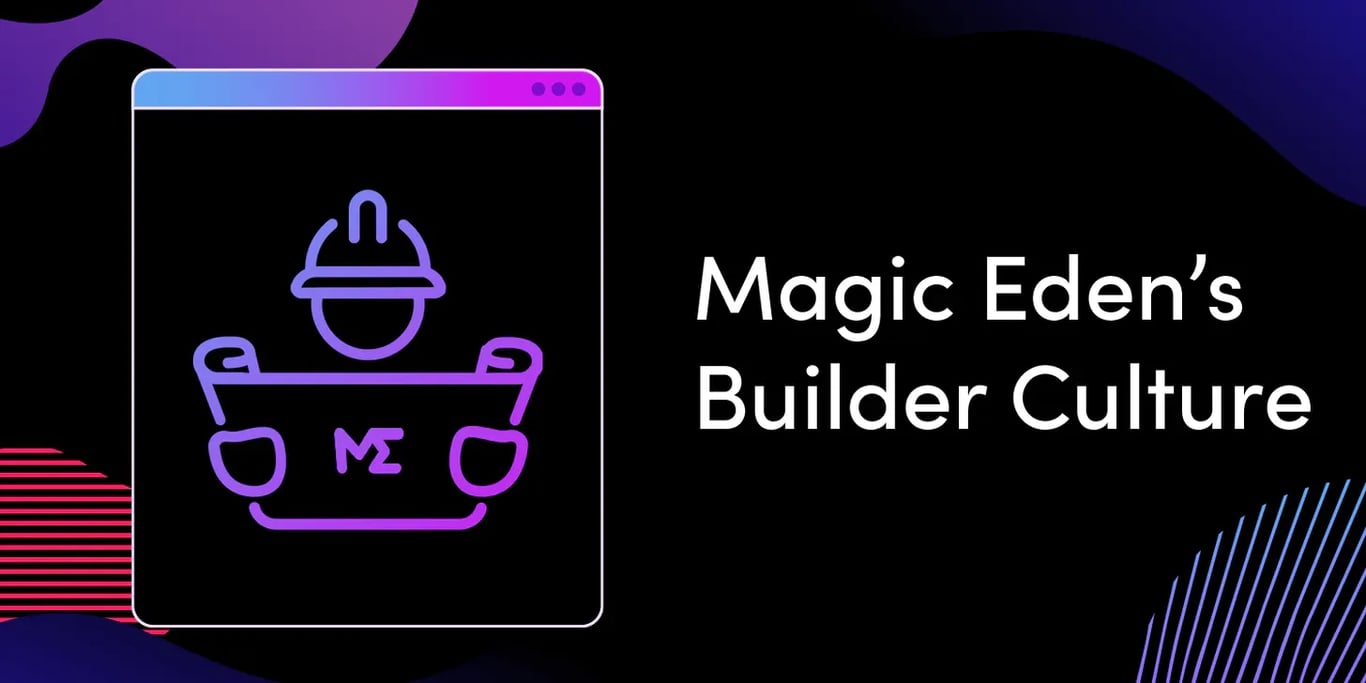 Devs are the backbone of Magic Eden. Our devs do something every day. They're relentless, passionately learning and constantly improving the Magic Eden experience for creators and collectors. In this week's newsletter, we speak to four of our devs (Vlad, Qiang, Michael & Jason) working across everything from Launchpad to our Mobile app. This is our builder culture. 
Solana: Building on Solana isn't without its obstacles. Solana has a relatively steep learning curve but resources are available (like Solana Cookbook). Although challenging, the wonderful thing about blockchain technology is that it's public and composable. "I'm used to the Web2 idea of privately-owned infrastructure. Seeing the amount of tooling that is free and open, like image uploads and transactions is amazing," said Jason, who leads mobile app development (if you're React-native, join him!). One can imagine the infinite amount of use cases in application and to be applied. Composability, after all, spurs innovation as it allows anyone to take what is existing, build or adapt on top of it. For Michael, who works on Launchpad and Auctions, NFTs are an "intuitive way to explore and experiment with composability". Qiang, who leads our core secondary marketplace and Creator hub, added that Solana's high TPS makes it intrinsically friendly to NFTs.
Magic Eden: The combination of building on Solana and Magic Eden unlocks new capabilities and opportunities. We're ardent supporters of creators and we believe that they will take what we've built and build even bigger things on top of it. We're also bullish on collectors. "For now, the optimal user experience is yet to be discovered. This makes our work even more impactful. We're not just another marketplace, we're shaping the way people interact with NFTs," shared Vlad, who leads Launchpad. The Magic Eden user experience is purposefully designed with a low barrier to entry so we can onboard broader groups of people onto NFTs. "With partners like Overtime, we demonstrate completely new behaviors, possibilities and use cases for NFTs. These are yet to shine. We're still super early." 
What's unique about building on Magic Eden is the live interaction and feedback that unfolds in real time. The NFT community is our collaborator. "The community will praise us or hate us, often both at the same time. It can be intimidating and being relevant can be tough but it's so worth the journey!" said Vlad. "We are tightly bonded to the community. As soon as we see a tweet with a suggestion, we discuss whether we should do it or how we should improve it. It's highly likely that a dev will pick it up very soon," shared Qiang. When our community mentioned they wanted to view new collections differently, we implemented multiple time window options and then, re-organised our homepage. When we heard that there is some confusion with our new user interface, we got started on a better version. And yes, the collection watchlist is coming soon. Jason calls it TDD: Twitter-driven development. Case in point.
At the heart of what our devs do is innovation. Every week, our engineering team works on new features and improve existing ones. Here are their proudest moments: 
Qiang: "The first version of the website was built within 2 weeks, and it immediately got a lot of attention and compliments once it went live. It was really fun to watch people's reactions on Twitter. This is totally different from the B2B product I've previously built. We'd gather feedback in the morning, work on it throughout the afternoon and ship it to find happy faces on Twitter at night." 
Vlad: "I've enjoyed building a more accessible Launchpad experience. We were able to build tools that would allow non-tech users to run launchpads completely on their own. That was a massive milestone. It came with a lot of difficult realizations but it was an awesome journey nonetheless." 
Michael: "I'm most proud of the auctions feature! I graduated last spring so this was the first major product that I owned from start to finish and it taught me a ton." 
Jason: "Taking on the mobile project and scaling it to where we are today. The first version of the app was done in 2 weeks and we hit 100k downloads last month. We're on track to hit 100k on both Android and iOS in a few weeks. Solana is missing on mobile and I'm super excited to lead a contribution in this space. We're refining our strategy that I think the whole ecosystem will love. I can't wait to share it!" 
So, what does it take to build on Magic Eden? 
A champion's mindset. No day is the same, revisions aplenty and problem-solving always. "The NFT space moves extremely fast and it can get exhausting to keep up with all the new developments but having a passion for learning makes it a lot easier," Michael said. "I think a lot of us are learning every single day and still executing at top-tier levels. There's backend engineers who are shipping critical UI and frontend engineers shipping critical backend services. We have a strong dev culture to own any piece of code. If you want a feature done, you can just build it and ship it," Jason shared. This engineering-first mentality allows for our dev talent to fully soar to their fullest potential, innovating without the usual Web2 limitations (i.e months and months of review to release one button). 
Everyone at Magic Eden is passionate about what they do but especially so, our engineering team. For Vlad, being passionate means seeing things through and thinking deeper: what's the optimal experience? It also means thinking from different perspectives and proposing alternative routes.
But most of all, building on Magic Eden is a shared passion. We ideate, execute and build together. Join us! 
---
MagicDAO x NFT LA
MagicDAO is throwing the opening party at NFT LA on Mar 28. Magic Ticket holders will have access to a VIP area and they'd meet Waka Flocka! If you missed us at LUME Studios, come through!
More details here.  
---
What's happening?
---
MagicDAO 🤝 Hacker House NYC
It was amazing seeing all of you at our first MagicDAO event! Next up: NFT LA.
---
🪄 Congrats, this week's top performing collections on ME! (3/16-22)