"Hey, how do I buy NFTs on Solana?" You've heard it. We've heard it. Solana NFTs are here, and the ecosystem is proliferating—and fast. So how is the experience compared to, say, buying NFTs on any other chain?
Well, if you've ever bought a non-fungible token on Ethereum, then you're all too familiar with the potential costs and speed. In other words, if you enjoy spending a small fortune on gas fees, then Ethereum is the way to go. 
Sure, the blockchain network's got some big names like NBA Top Shot and Axie Infinity under its belt. And that's just a taste. Flexing dozens of major projects, Ethereum is hands-down the granddaddy OG of digital collectibles. Yes, Solana is a new chain, and yes, this means there are fewer collections... for now. 
But if you've engaged with any protocols on Solana, then you already know what the future feels like. (Just take the Raydium decentralized exchange for a spin, and you'll quickly notice that there's literally zero friction.) So, want to know if Solana can handle NFTs like it handles everything else? (Hint: Oh boy, it does.) And the whole process is as smooth as eggs. 🥚 
But is there a best way to go about buying NFTs on the Solana chain?  This article assumes you already know what a non-fungible token is. (i.e., a unique token that represents a record of ownership over an asset). Now let's go over a few essentials to make sure you're covered before breaking into NFTs on Solana land. 
Where to buy NFTs on Solana
Image credit: Liza Rusalskaya  |  Unsplash 
Before we put the cart before the horse, let's talk about the basics. It's a good idea to go over the tradeoffs between Solana versus Ethereum. Then we'll guide you through buying an NFT on Magic Eden. 
Why Solana vs. Ethereum
Two words: Gas prices. Ethereum gas fees have been insane lately. Is anyone surprised? It makes total sense that an auction-based model would lead to increasingly expensive bidding wars over block space as the network gets more and more congested.  
User experience is also another clear differentiator. Ethereum can lag. Your transactions can grind to a halt. Not so on Solana. The process is so smooth, they might as well rebrand Solana to "Butter". (Mm. Butter.) 
Sure, we can chalk up Ethereum's slow and expensive design to the cost of decentralization. And that's fair. But this is where Solana presents a clear advantage. You can argue till you're blue in the face and the cows come home. That doesn't change the fact that Solana can provide its users the speed and low cost that Ethereum currently can't. (Thank you, Proof-of-Stake [PoS] and Proof-of-History [PoH] consensus mechanisms!)
Primary Marketplace vs. Secondary Marketplace
If you're somewhat green to buying NFTs in general, there is one thing we should clear up right off the bat. As with investing in cryptocurrencies, when you're buying NFTs, it's always best to come in early. And so, the original purchase point of an NFT is the primary marketplace. In this case, it's the website where you can mint an NFT from the collection. When you mint from the source, all you have to cover is the mint price and the gas fees. And on Solana, gas fees are peanuts.
Compare that to a secondary marketplace like an auction house. That's what NFT platforms are, in a nutshell. Some of them feature curated collections, whereas others provide an open market, or some sort of hybrid. 
Let's take Magic Eden as an example for a second. (Ah yes. It's shillin' time.) 
On a serious note, Magic Eden is the online marketplace of choice for Solana NFTs. What makes Magic Eden different? We've got an active team that listens to the community, and we prioritize, above all else, our mission of offering the very best NFT buying experience for users. 
On Magic Eden, you'll find different sections, like live auction listings, where you can bid against other users, and fixed price sale options too. 
Let's buy a non-fungible token on Solana
So! Ready to buy an NFT? Follow along with this step-by-step guide on how to buy NFTs on Solana.
Step 1. Get yourself a crypto wallet. 
You're going to need more than one wallet. So save yourself buckets of tears and anguish by getting a notebook. This is where you'll write down all your private keys and seed phrases. 
There are chain-agnostic wallets like MathWallet and Torus Wallet. There are also dedicated chain wallets like Phantom and Solflare for Solana, or MetaMask wallet for Ethereum. 
As far as digital wallets go, what makes Phantom so special? Well, this particular cryptocurrency wallet doesn't just store your digital assets. Phantom can also display your NFTs. Sound good? Great. 
Here's a video on how to get your Phantom wallet set up:
If you're a stickler for security like us, then get yourself a hard wallet. Seriously. Sure, it can get tedious having to input your pin every time you want to make a transaction. So here's you might use it:
For your serious HODL assets (the ones you don't plan to touch for a very long time), consider storing everything on your Ledger. (Alternatively, you can check out the Trezor, which also comes highly recommended.) 
Step 2. You've got to have SOL. 
SOL, the native token of the Solana blockchain, is what you're going to need to pay for your blue-chip NFTs. It's easy enough to get your hands on some SOL. Just head over to any one of the major exchanges, like Binance, Crypto.com, Kraken, or Coinbase. 
Here's a screenshot of a near-empty wallet depleted of SOL. (Bad wallet!)
Image credit: Valerio Puggioni  |  HODL Content

Now let's get some SOL in by clicking "Deposit" and copying the wallet address. This is the address you'll send your SOL to from the exchange. 
A minute later, and here we are. (You'll find it hard to get used to Solana's incredible speed anytime soon.) Now that we're armed with some SOL, let's go explore the marketplace and buy an NFT.
In case you're stuck, though, here's a quick video showing you how to move your SOL over to your Phantom wallet.
Step 3. Buy an NFT on Solana! 
Once you've got some SOL in your wallet, head over to your future favorite NFT marketplace, Magic Eden. Browse one of the amazing collections featured on the platform. Yes, it can get quite overwhelming going through the extensive number of collections. Surprised? We were, considering how new Solana is, and NFTs on Solana are even newer. 
If you're not 100% sure which collection you want to drop your first SOL on at this moment, that's okay. (We're working on a guide for that.) In the meantime, here are two awesome tools you can play around with: howrare.is and solanafloor.com. Use them to assess popular and up-and-coming NFT projects as well as their metrics.
But let's assume we already know what we want. For this demo, we'll be going with a Scoogi purchase. The first thing you want to do is connect your wallet. (It's as easy as pressing the "Connect wallet" button on the top right-hand corner.)
The main page of the collection features important data like the current floor price and the average sale price. Once we've picked a Scoogi we like, we can click on it. This will take us to its specific page, where we can review data like the piece's price history. Here's how long it takes in real time from the moment I press "Buy Now" to the transaction actually going through. Note the "Make an offer" button. And for auctions, don't forget to note the reserve price. 
Sure, this process took slightly longer than roughly 3 seconds. But hey, it was still seconds compared to Ethereum transactions, which can take aaaaages. 
Step 4. Confirm that the Scoogi is in our Phantom wallet. 
So now that we've purchased our Scoogi, let's see you how we can view it in our wallet.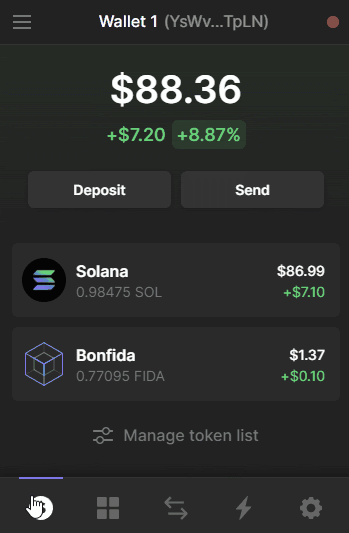 And there you have it. A visualization of your crypto assets. Easy as pie. 🥧
These scams will steal your SOL
We're working on a dedicated guide covering NFT scams, but for now, these two are the big scams you should keep an eye on. 

Rug pulls. This is a big one, and it's not unique to Solana either, or even to NFTs. Rug pulls are a bane of crypto, and it's not even funny how commonplace they've become. This is one reason Magic Eden chose to have creators doxxx themselves. That way,  our platform could protect the community and give users a safe and comforting NFT shopping experience. And although doxxing in no way actually guarantees that the creators won't rug, this move does add an extra layer of security and comfort. 
Phishing scams. An NFT marketplace on Ethereum was a recent target of a phishing attack. Here's how it went down. The hacker targeted the owners of popular NFTs like Bored Apes. Then they emailed the owners with a link telling them to click on the update. Once they clicked the link, the hacker was granted access to their NFTs. (Can you really fault the marketplace for that?) 
So here's a friendly reminder: Always Do Your Own Research. No matter what others tell you, in the end, it's your capital.
And keep this principle in mind: Where there is value, capital accrues. And where there is capital, there will be scammers, so protect yourself. If safety really is a priority for you, get yourself a hard wallet. 
Now that you know how to buy NFTs on Solana, go out there and enjoy a safe and fun shopping experience, you!