On January 7, Solana Indonesia announced the winners of the Solana Indonesia Art Project, which saw 2500+ artwork submissions from over 700 Indonesian artists. This online NFT competition for Indonesian visual artists was the first of its kind. Fikri Abdurakhman is one of the 18 standout artists to receive an award. His artwork won the Magic Eden Special Prize.
His winning piece — Metahorse (Livin in a Dream) — is about the limitless possibilities of living in imaginative worlds, returning to a child-like curiosity, and embracing a metaverse future where everything is possible. "As a kid, I was never afraid to dream and imagine things for myself. Now, we have metaverses where imagination can be realized. The horse character pictured here is named Betsie. She's a metahorse."
His art is an embodiment of the environment around him, his experiences and culture. "My art is like a diary of my mind, thoughts and emotions. I write in this way."
Fikri first heard of NFTs at the beginning of the global pandemic when his artist friends started minting them. In his view, NFTs appreciate artists and can greatly benefit them. Firstly, through financial benefits from clear royalty structures that bring secondary sales into the mix. Secondly, it lowers the barriers to entry for newcomer artist as it is more welcoming than the traditional art industry. And, he believes that the Southeast Asian NFT scene has a lot to offer. "Southeast Asian artists each have their own cultural perspectives since cultures from one country to another are so different. There is so much value and potential here."
Metahorse (Livin in a Dream) will be auctioned on January 15, 2022.
---
🪄 Congrats, this week's top performing collections on ME! (1/5-11)
---
🚀 Launchpad Releases
Launchpad is Magic Eden's white-glove full-minting support service with cutting edge capabilities, outbound marketing support and automatic listing. We provide the widest reach, exposure and tools for creators to launch their collections on Solana.
Cosmic Cyborg
Cosmic Cyborg brings a metaverse game for cyborgs.
1,111 NFTs minting on Jan 14, 6PM UTC
Space Clucks
Space Clucks is the first NFT feature film in the world.
3,333 NFTs minting on Jan 14, 8.00PM UTC
Alpha Gorillas
Alpha Gorillas is a deflationary collection part of the play-to-earn open world. 
5,000 NFTs minting on Jan 15, 10.00PM UTC
Bitspawn
Bitspawn is GameFi for Esports and NFT Gaming. Their first collection is SPWNGODS.
3,333 NFTs minting on Jan 16, 8.00PM UTC
The Suites
The Suites is a metaverse project for sports and live events. 
4,932 NFTs minting on Jan 16, 11:59PM UTC
Dinodawg Kingdom
Dinodawg Kingdom is led by Oscar-winning VFX artist, Adam Dewhirst. 
3,500 NFTs minting on Jan 16, 5.00PM UTC
ARxolotl NFT
ARxolotl NFT is a 3D, AR and VR enabled NFT collection.
2000 NFTs minting on Jan 17, time TBD
Bobos of War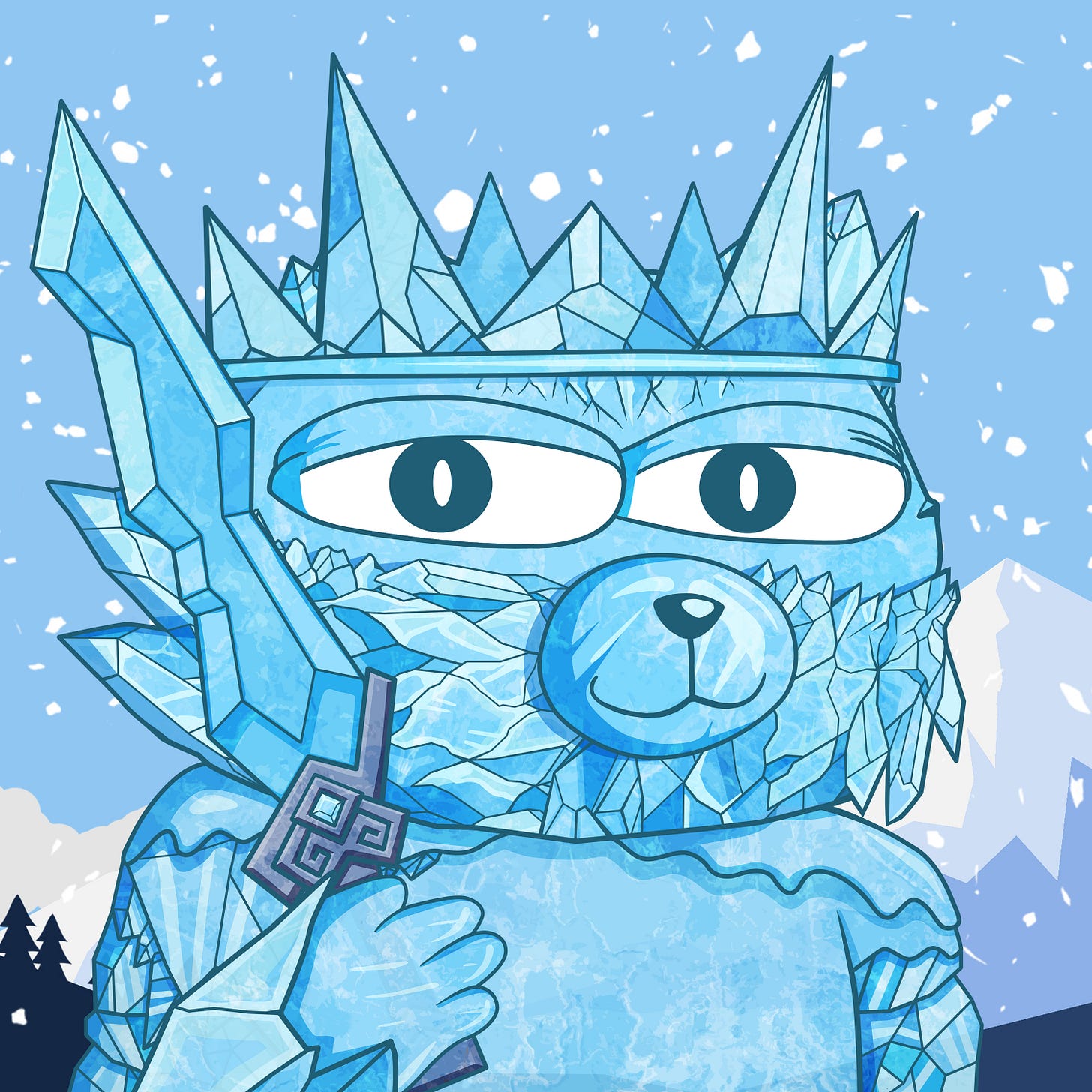 Bobos of War is the first animated collection with GameFi integration.
Minting on Jan 18, time and supply TBD
---
Upcoming Auctions
On Magic Eden, creators can hold both Dutch and English auctions. Check out live auctions here!
"Celeste" by Jason Balducci
Thursday, January 13
"Help" from the Humanity collection by Celestial Body
"Foster Mountain Elder" from the Mindfolk Elders collection by Jurgens Walt (Mindfolk)
Saturday, January 15
"Metahorse (Livin in a Dream)" by Fikri Abdurakhman, winner of the Magic Eden Special Price, Solana Indonesia Art Project
Monday, January 17
Tuesday, January 18
"Zen0 x TheChimpions" by Zen0